Evolutionary history of Nile perch Lates sp. inferred from mitochondrial DNA variation analyses
Zoological Studies
2013
52:59
Received: 3 August 2012
Accepted: 22 August 2013
Published: 13 December 2013
Abstract
Background
Evolutionary histories of aquatic species are often characterized by distinct patterns of genetic variation, which in part reflect drainage evolution. In the present study, the consequences of paleo-environmental changes on patterns of genetic variation of the mitochondrial DNA control region in Nile perch Lates sp. sampled from seven water bodies across the African continent were investigated.
Results
In a total sample of 124 individual sequences, 37 distinct haplotypes were observed, and 78.4% of these haplotypes were location specific. Haplotypes were found to cluster into two major groups, one composed of individuals sampled from East Africa and another from West Africa, with no haplotypes shared in between.
Conclusion
These lineages may have developed in geographical isolation during the Pleistocene and have remained largely allopatric without gene flow (Nm = 0.0) since that time. There was also evidence that both of these genetic lineages have undergone recent population expansions. We interpret these results in light of the recent evolution of Africa's modern drainage network.
Keywords
Africa drainage system
Nile perch
Evolution
mtDNA
Background
Construction of spatio-temporal details of the evolutionary histories of fishes can reveal key events of drainage evolution (Cotterill and de Wit 2011; Goodier et al. 2011). This is because the biogeography of extant freshwater fishes represents responses to landscape evolution. Since the ecology of these fishes incorporates responses to habitat change, these responses leave corresponding signatures in the genetics of these fishes (Balon 1974; Lévêque 1997; Zengeya et al. 2011). Therefore, the evolutionary history of each aquatic species is characterized by a distinct pattern of genetic variation, which includes persisting relics of drainage evolution (Craw et al. 2007).
Goodier et al. ( 2011) studied the phylogeography of the African tigerfish of the genus Hydrocynus and found that the diversity and distribution of Hydrocynus reflect a complex history of vicariance and dispersal. Moreover, range expansions in this particular species testify to changes in drainage basins, and the principal divergence events in Hydrocynus have closely interfaced with evolving drainage systems across tropical Africa. Agnèse et al. ( 1997) using molecular marker polymorphisms found that the Nile tilapia Oreochromis niloticus with an almost similar natural distribution on the African continent as the Nile perch, Lates sp., can be divided into two groups: one in East Africa and the other comprising the Nile and West African populations. They attributed the subdivisions to tectonic movements and volcanic activity in East Africa that played a major role in the formation of the different basins on the continent, although they also postulated that the alternating dry and humid phases across the continent in the Pleistocene may have had large influences on the expansion and contraction of populations and their speciation.
Nile perch occurs naturally in the Afro-tropical region of the African continent, in the major river basins of the Nile, Congo, Volta, Niger, and Senegal Rivers (Fishbase 2010). It also occurs naturally in Albert Lake in Uganda, Turkana Lake in Kenya (Harrison 1991), Chamo, Abaya, and Gambella Lakes and the Baro River in Ethiopia (Golubtsov and Habteselassie 2010), Lake Chad in Central Africa, Marriott Lake in the Nile Delta in Egypt, and in scores of small rivers in tropical West Africa (Moritz and Linsenmair 2005). Several introductions of Nile perch into non-native waters resulted in successful establishment as reported in East Africa in Victoria, Kyoga, and Nabugabo Lakes (Ogutu-Ohwayo 1993 1990). For effective management and conservation of this fishery, it is prudent to understand its evolutionary history throughout its extant range and also in environs into which it was introduced.
The rate of change in genetic markers allows investigations of diversity on temporal scales resulting from recent history to deep evolutionary time (Nielsen 1998). For conservation efforts, the evolutionary history of the Nile perch will assist in deciphering historical congruencies responsible for the genetic subdivision throughout its extant range, in both endemic and introduced environs. The evolutionary history can also be used to test congruence between distributional histories and paleo-environmental changes that may have led to biological evolutionary diversification (van Tuinen et al. 2004; Dominguez-Dominguez et al. 2008) and address broader ecological and evolutionary processes like changes in populations, demographics, and genetics over time (Ramakrishnan and Hadly 2009). In addition, it can also describe how fish populations expanded or contracted in environments they occupy and provide possible successful establishment mechanisms in environs into which they were introduced (Tzeng et al. 2006). Influences of patterns of post paleo-environmental changes on species distributions and historical demographics of the Nile perch have not yet been studied. For effective management of an exploitable species such as the Nile perch, it is important to define its taxonomic status and historical distributions throughout its extant range and delineate its different evolutionary lineages that may warrant separate management strategies and should be considered different Evolutionarily Significant Units (ESUs) (Soltis and Gitzendanner 1999).
In this study, we analyzed the genetic diversity of mitochondrial (mt)DNA and combined phylogeographic, phylogenetic, and mismatch analyses to infer spatial dynamics of the distributional and demographic history of the Nile perch throughout its native and introduced ranges on the African continent. Based on the results, we provide proposals for effective management to ensure its continued and sustainable exploitation in the future.
Results
Nucleotide diversity, haplotype diversity, and population differentiation
Geographical distribution of Nile perch lineages, hierarchical genetic diversity, and phylogenetic analyses
The optimal substitution model of GTR (Tavere
1986
) for Nile perch was obtained with MODELTEST 3.6 (Posada and Crandall
1998
). The parameters for this model were as follows: base frequencies were A = 0.290, T = 0.329, C = 0.179, and G = 0.202, and
α
 = 1.46. The NJ tree presented a brush-shaped topology (Figure
4
). Nile perch haplotypes clustered into two distinct groups (henceforth referred to as the East and West African lineages). The distribution of the major Nile perch lineages was exclusive to where samples were collected (East or West Africa) with no overlap in distribution. Haplotypes of the Nile perch collected from lakes in East Africa were not found in West African collections and vice versa (Tables
1
and
4
). Most of the molecular variance observed in Nile perch was imputable to differences among lineages,
Ф
ST
 = 0.9345 (Table
2
). The phylogenetic trees showing the 37 haplotypes observed in African Nile perch are shown in Figures
4
and
5
. The two clusters were separated by an observed 98.06% nucleotide divergence (Table
3
) with 99% bootstrap value support for the NJ tree (Figure
4
) and a bootstrap value of 1.00 for the 50% majority rule consensus tree based on the BI analysis (Figure
5
). Haplotypes of East and West Africa defined separate monophyletic clades (Figures
4
and
5
). The genetic distance by the simple P method,
P
 = 
Zd/Zt
(Avise
1994
), where
Zd
is the total number of mutations, deletions, and substitutions and
Zt
is the total number of bases compared, produced a genetic distance of
P
 = 58.2% between the two lineages.

Table 4
Observed 95% CIs of simulated S and demographic parameters among Nile perch lineages
Group

Population

S

95% CI

τ

θ 0

θ 1

P(SSD sim)

P(SSD obs)

Hri

P(Hri)

East Africa

Albert Lake

15

1 ~ 14

13.81 (0.04 ~ 68.81)

0.00 (0.00 ~ 3.57)

2.11 (0.16 ~ 99,999.00)

0.240

0.126

0.339

0.20

Kyoga Lake

3

1 ~ 10

0.97 (0.00 ~ 2.45)

0.00 (0.00 ~ 0.05)

99,999.00 (1.35 ~ 99,999.00)

0.580

0.012

0.127

0.60

Nabugabo Lake

19

2 ~ 12

2.20 (0.04 ~ 4.18)

0.00 (0.00 ~ 1.40)

99,999.00 (2.41 ~ 99,999.00)

0.130

0.085

0.164

0.48

Chamo Lake

2

0 ~ 7

1.51 (0.00 ~ 4.30)

0.00 (0.00 ~ 2.53)

99,999.00 (16.84 ~ 99,999.00)

0.650

0.037

0.250

0.74

Turkana Lake

3

3 ~ 12

1.60 (0.00 ~ 3.23)

0.00 (0.00 ~ 0.97)

99,999.00 (4.79 ~ 99,999.00)

0.680

0.011

0.087

0.76

Victoria Lake

33

19 ~ 41

1.25 (0.24 ~ 5.65)

1.25 (0.00 ~ 2.16)

26.25 (4.05 ~ 99,999.00)

0.300

0.008

0.021

0.85

West Africa

Senegal River

11

6 ~ 18

1.56 (0.48 ~ 2.75)

0.00 (0.00 ~ 0.53)

99,999.00 (2.92 ~ 99,999.00)

0.170

0.028

0.104

0.34

The relationship among haplotypes and the frequency of each haplotype of the African Nile perch were further visualized by constructing a minimum spanning network (Figure 3). In the network, two lineages of East and West Africa were recognized. There was substantial structuring of groups among lineages with an overall Ф ST of 0.0648 (Table 2).
Mismatch analysis and demographic history
The mismatch distribution was clearly bimodal with one mode corresponding to the number of differences between lineages (approximately 240) and the other to differences among individuals within lineages (approximately 2) (Figure
6
). The goodness of fit test showed that no mismatch distributions within the two lineages significantly deviated (
X
2
 = 0.224,
p
 > 0.05) from predicted values under the sudden expansion model (Table
2
). Considering the 95% confidence interval generated by simulations, values of the observed numbers of polymorphic sites were consistent with simulated sites, meaning that the parameters estimated by the model were sufficiently accurate to account for the observed polymorphism within the two Nile perch lineages. Observed values for the age expansion parameter,
τ
(Table
4
), did not substantially differ among populations of the different sampled water bodies, and respective values for the two lineages were 1.691 and 1.563 for the East and West African lineages. The respective estimated times since expansion before the present for the two Nile perch lineages were 49,603 and 45,576 years. The expansion model was further supported by the fact that its findings for all collections agreed with the expectations of a historically expanding population model (Rogers
1995
), where
P
[simulated sum of squared deviations (SSD
sim
)] ≥ 
P
[observed SSD (SSD
obs
)] (Table
4
), the low Harpending's raggedness indices (Hri = 0.156,
P
 = 0.570), and negative values of Tajima's
D
and Fu's
F
(
D
 = -0.550, FS = -1.589) were consistent with population expansion.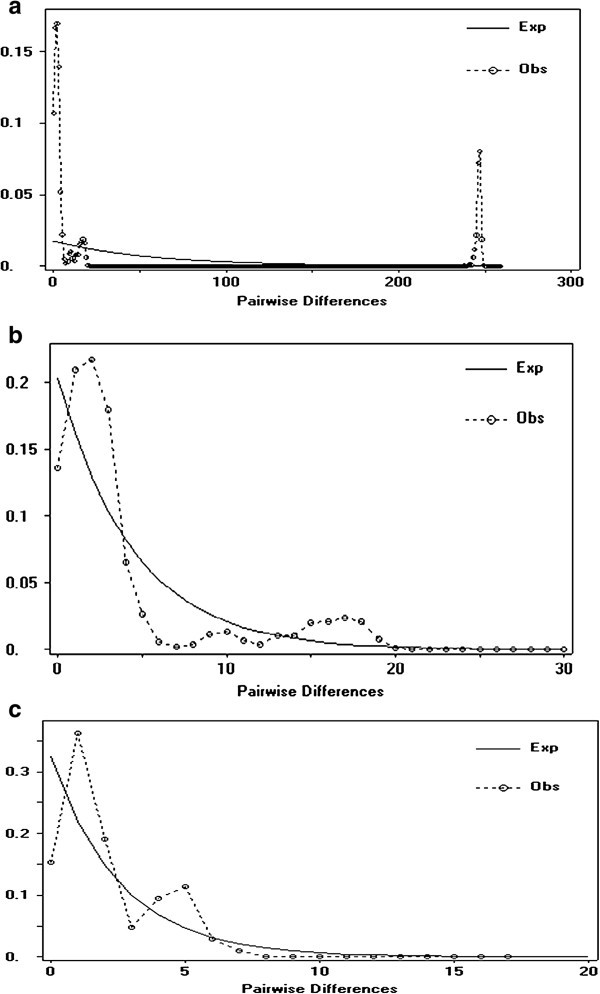 Discussion
Results of the phylogeographic, phylogenetic, and mismatch analyses revealed that Nile perch on the African continent could be divided into two lineages that most likely identify ancestral populations of Nile perch that evolved separately as a result of allopatric separation. This discussion focuses on the species' evolutionary history as may have been dictated by various paleo-environmental changes on the African continent in the species' extant range that is most compatible with differential patterns of genetic diversity observed within and among the major evolutionary lineages beginning with the Pliocene-Pleistocene epoch to modern times.
Conclusions
MtDNA control region data indicate that there are two genetically divergent lineages of Nile perch on the African continent, an eastern lineage defined by populations from East African and Ethiopian waters and a western lineage consisting of populations from the Senegal River. Genetic differences between these lineages are likely indicative of two different species and two Evolutionarily Significant Units (ESUs).
Since depletion of one species cannot easily be replenished by natural migration by the other, the ESUs should be conserved as two separate management units, and genetic exchange due to anthropologic activities between the two should be avoided. The status of fisheries of the Nile perch on the African continent, although listed as of 'least concern' because of its wide distribution and there being no major threats, is vulnerable to overexploitation (Azeroual et al. 2010). The Nile perch fishery on the African continent has relatively high genetic diversity compared to other freshwater fish species, meaning the fishery is healthy and if effectively managed can ably support both the species' sustainable exploitation and conservation efforts.
Declarations
Acknowledgements
This study was sponsored by the government of Uganda and the World Bank through its Millennium Science Initiatives (MSI). We are grateful to the staff and students of the Genetics Laboratory in the College of Agricultural and Environmental Sciences, Makerere University where most of the work was done. We thank the technicians on board of the Explorer vessel of TAFRRI, Tanzania, Mr. Odada of KEMFRI, Kenya, Mutebi of Nabugabo, Seye Mouhamadane of Dakar, Senegal, and Dereb of Addis Ababa, Ethiopia for their efforts during sampling of Nile perch in different parts of the continent. DNA sequencing was carried out in the laboratory of Macrogen (GeumCheon-Gu, Seoul, South Korea). The authors thank Prof. Dean Jerry for proofreading an earlier copy of the manuscript.
Authors' Affiliations
(1)
ARDC-Kajjansi, Kampala, Uganda
(2)
Department of Environmental Management, Makerere University, Kampala, Uganda
(3)
Biological Sciences Department, Makerere University, Kampala, Uganda
(4)
Department of Fisheries Resources, Entebbe, Uganda
Copyright
© Mwanja et al.; licensee Springer. 2013
This article is published under license to BioMed Central Ltd. This is an Open Access article distributed under the terms of the Creative Commons Attribution License (http://creativecommons.org/licenses/by/2.0), which permits unrestricted use, distribution, and reproduction in any medium, provided the original work is properly cited.